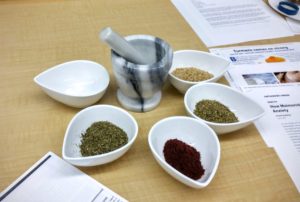 Earlier this week at the KOH Library and Cultural Center in Sacramento I presented a program on herbs and spices in Jewish cuisine. It was a very enjoyable evening, during which I shared the lectern with Heather Wong, an enterprising and knowledgeable young woman who recently opened The Allspicery, a store in downtown Sacramento devoted entirely to selling herbs and spices. I spoke about the trade routes and the Silk Road and how spices were brought to communities across the known world. We had a tasting of spice blends provided by Heather and she demonstrated how she prepares some of the blends in her shop. Many books were on display for browsing.
Attendees took home a booklet of recipes, a brief bibliography and a list of Internet addresses where information on spices and herbs could be found. Because it's so much easier to use links than to copy URL's of unmanageable lengths, I promised to include both documents on this blog to make the information more accessible.
BIBLIOGRAPHY
The books listed here are good sources of Jewish recipes and information about herbs and spices in Jewish cuisine. I have provided direct links to some of the books. The remaining ones can easily be found on the Internet by entering the title into a search on Amazon.com, which usually has the most extensive information and reviews on any given title.
Suggested by Heather Wong:
The Complete Book of Spices: A Practical Guide to Spices & Aromatic Seeds, by Jill Norman.  Great photos with artfully arranged spices, good combination of encyclopedic info on specific spices as well as some recipes for blends and dishes using spice blends
The Magic of Spice Blends: A Guide to the Art, Science, and Lore of Combining Flavors, by Aliza Green. Recipes for spice blends organized by geographic region, variety of cooking indications.
Suggested by my good friend Davida Feder, who let me borrow this wonderful, colorful book :Silk Road Cooking: A Vegetarian Journey, by Najmieh Batmanglij
Suggested by KOH President Mehrnaz Halimi:
Eating the Bible by Rena Rossner – recipes using ingredients mentioned in the Torah, not necessarily biblical recipes
Modern Israeli Cooking by Danielle Oron
The World on a Plate by Mina Holland
The Covenant Kitchen by Jeff and Jodie Morgan – This book includes wine pairings for traditional Jewish recipes.
A Drizzle of Honey: The Lives and Recipes of Spain's Secret Jews by David Gitlitz and Linda K. Davidson – fascinating story of a group whose cuisine is not well-known
Suggested by Evie Lieb:
The first four books by chef/restaurateur Yotam Ottolenghi and several co-authors are especially beautiful books with recipes using herbs and spices in unusual, delicious ways.
Jerusalem by Yotam Ottolenghi and Sami Tamimi
Plenty by Yotam Ottolenghi and Jonathan Lovekin
Plenty More by Yotam Ottolenghi –
Ottolenghi: the Cookbook by Yotam Ottolenghi and Sami Tamimi –
Aromas of Aleppo: The Legendary Cuisine of Syrian Jews by Poopa Dweck – A gorgeous coffee-table book with mouth-watering recipes
Quiches, Kugels, and Couscous: My Search for Jewish Cooking in France by  Joan Nathan –  Jewish French home cooks with varying backgrounds share recipes
Sephardic Flavors: The Jewish Cooking of the Mediterranean by Joyce Goldstein
Saffron Shores: Jewish Cooking of the Southern Mediterranean by Joyce Goldstein
Cucina Ebraica: Flavors of the Italian Jewish Kitchen by Joyce Goldstein
The Book of Jewish Food: An Odyssey from Samarkand to New York by Claudia Roden – a superb basic Jewish cooking reference with excellent recipes
The Herbfarm Cookbook by Jerry Traunfeld – a good source of basic  information about herbs
Jewish Food: The World at Table by Matthew Goodman
Recipes Remembered: A Celebration of Survival by June Feiss Hersh -recipes of Holocaust survivors and descendants from around the world, with fascinating background stories
The Classic Cuisine of the Italian Jews, Volumes I and II, by Edda Servi Machlin –  recipes and tales of life in a small Italian Jewish community destroyed in WWII
The Varied Kitchens of India by Copeland Marks -includes sections on Jewish recipes for each area of India covered
The Great Book of Couscous by Copeland Marks -includes Jewish recipes for each country covered
The Seasonal Jewish Kitchen: A Fresh Take on Tradition by Amelia Saltsman  – a new book with recipes using fresh ingredients
Encyclopedia of Jewish Food by Gil Marks – a big book with excellent entries  on all aspects of Jewish food, with many recipes
Olive Trees and Honey: A Treasury of Vegetarian Recipes from Jewish Communities Around the World by Gil Marks – an award-winning book from this rabbi/chef
Another source of information about herbs and spices is, of course, the Internet. Here's a live-link version of the short list I shared with attendees at my presentation:
INTERNET ADDRESSES WITH HERB AND SPICE INFORMATION
Of course all you have to do is enter the name of a spice or herb for an Internet search and there will be many resources that come up as suggestions. The links below are just to get you started.
Newspaper Article about Turmeric – http://m.jacksonville.com/entertainment/food-and-dining/2016-09-08/story/goods-myths-and-facts-about-turmeric#article=6830BD3B1576235EC1D6A88A26B986C02073
Newspaper Article on Saffron – http://www.sfgate.com/recipes/article/Posh-Spice-When-it-comes-to-buying-saffron-of-2814903.php
Article on sesame from Berkeley Wellness Letter – http://www.berkeleywellness.com/healthy-eating/nutrition/article/sesame-little-seeds-big-health-benefits?s=EFA_160920_AA1&st=email&ap=ed
Recipes using Za'atar – http://www.myjewishlearning.com/the-nosher/23-recipes-that-use-zaatar-the-israeli-spice-you-need-to-know/
Website guide to herbs and spices – http://cookfearless.com/spices-herbs-a-quick-lesson/
List of herbs and spices used in Jewish cooking (with Hebrew names) – http://www.jewishrecipes.org/spices/list-of-herbs.html
A one-page timeline showing the history of spice trade and who dominated it. Once the page is on the screen, a click on any part of the timeline brings up expanded information. Very clever and fun to read! – http://www.spiceadvice.com/history/index.html
The Secret Jewish History of Arugula – fascinating look into the now trendy herb http://forward.com/food/337587/the-secret-jewish-history-of-arugula/