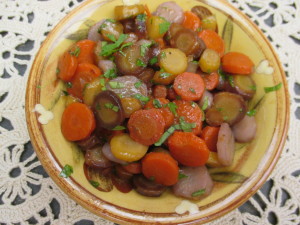 In this recipe carrot slices represent the gift coins traditionally given to Jewish children as Hanukkah "gelt", or money. This particular way of cooking the vegetable was in the original Julia Child TV show and book, THE FRENCH CHEF. The now widely available variety of carrot colors makes this side dish even more appetizing. After all, coins are not all the same color, are they?
CARROT COINS – 6 Servings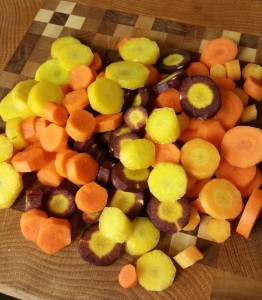 1 ½ lb carrots, preferably rainbow assortment
1 TBSP sugar
1 ½ C chicken or vegetable broth or water
1 ½ TBSP butter +1 or 2 additional TBSP for finishing
½ tsp salt
Pinch of freshly ground pepper
2 TBSP minced flat-leaf parsley
Peel the carrots and slice them into 1/4-inch rounds. Put them into a 2-qt. saucepan with a heavy bottom. Add the sugar, broth or water, 1 ½ TBSP butter, salt and pepper. Bring to a boil, cover and cook for about 30 minutes, or until carrots are tender and the liquid has boiled away. Adjust the seasoning.* Just before serving, reheat, tossing with the additional butter and the parsley.
* May be cooled and refrigerated, covered, up to three days ahead. Reheat over medium-low heat, first melting the additional butter in the pot, then gently mixing in the carrots and parsley to avoid breaking the coins.