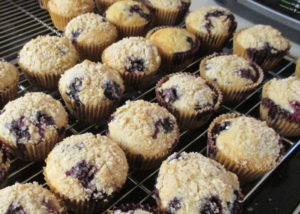 At Walking Iron Bed and Breakfast, a delightful Victorian inn in Mazomanie, Wisconsin, memorable muffins were served each morning while we were there on a cross-country driving trip.  Innkeeper Karisa Friske generously shared the recipe and helpful hints about how to prepare the batter ahead of time.
Mazomanie Muffins (Berry Cream Muffins)
Makes about 34 muffins. The recipe can easily be halved.
4 C all-purpose flour
2 C sugar
2 tsp baking powder
1 tsp baking soda
1 tsp salt
3 C fresh or frozen blueberries or raspberries
4 eggs, lightly beaten
2 C sour cream
1 C canola oil
1 tsp vanilla extract
Optional streusel topping (see below)
Grease 34 muffin cups or line them with paper liners. (You may get fewer muffins, but better to be prepared. They can be baked successively if all won't fit in your oven or you have only a dozen cups.) Preheat oven to 400° (375° convection).
Combine flour, sugar, baking powder, baking soda and salt in a large bowl.
Add berries and toss gently to distribute evenly.
In separate bowl combine eggs, sour cream, oil and vanilla, mixing well.  Stir this mixture into the dry ingredients, mixing just until moistened.
Fill muffin cups 2/3 full. (An ice cream scoop is a good tool for obtaining muffins of even size.) Sprinkle with streusel topping if desired.
Bake in preheated oven 20 to 25 minutes (17 to 20 convection) or until cake tester comes out clean. Cool in pan 5 minutes before removing muffins to cooling rack.
Optional Streusel Topping:
6 TBSP all-purpose flour
¼ C sugar
¼ tsp cinnamon
Pinch of salt
¼ C cold unsalted butter, cut into small cubes
6 TBSP quick-cooking oats (NOT instant!)
In food processor fitted with steel blade, combine flour, sugar, cinnamon and salt. Cut in the butter in short pulses, then quickly pulse in the oats. This can be made ahead and stored in the refrigerator in a covered container.
NOTE: Chocolate chips may be used instead of the berries. Batter can be prepared up to 4 days ahead. Fill muffin cups, cover with foil or a cookie sheet, and store in refrigerator. Do not add streusel until ready to bake. Cold batter may require a few more minutes in the oven, but be sure to check at the minimum suggested time–just in case.
The photos for this recipe were taken while I was testing both a large and small batches of the batter, hence the different sizes of muffin tins!
It might be fun to make these with both raspberries and blueberries for the 4th of July.