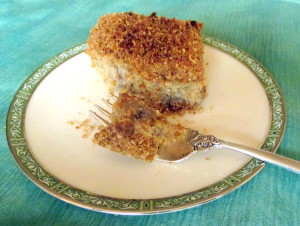 Here's a cake that is at once fluffy and crunchy–a little different from the usual  Passover spongecake. While it won't win any beauty contest, it is great with a cup of coffee or tea any time of day. This dessert is both kosher for Passover and non-dairy if oil is used for preparing the baking dish.When this recipe by Marlene Sorosky Gray originally appeared in Gourmet in 1995, I made it with the help of our then toddler granddaughter. With a bit of tweaking the cake easily passed the re-testing I recently gave it. (I have to admit that it wasn't as much fun without my former sous-chef, who has grown up to be a very competent baker and soon-to-be candidate for a PhD in neuroscience!)
Streusel
1/2 C firmly packed light brown sugar
2/3 C matzah meal (not cake meal!)
1 tsp cinnamon
1/4 C melted butter or vegetable oil
Place all ingredients in a bowl and mix with fingers or pastry blender to make a homogeneous mealy mixture.
Spongecake
Oil or butter and matzah meal for baking pan
6 eggs, separated (large or extra large)
3/4 C sugar (½ C + ¼ C)
4 large ripe bananas (2 very ripe and 2 firm-ripe if possible)
2 tsp vanilla wine*
1/2 tsp salt
1/2 C matzah meal (not cake meal!)
1/2 C potato starch
1 tsp cider vinegar or lemon juice
*Regular vanilla extract isn't kosher for Passover and the kosher for Passover ones are  impossible to find almost anywhere. Prepare vanilla wine, a fine substitute, by placing a couple of split vanilla beans in a bottle of sweet white Concord grape Passover wine. Allow to sit for at least a few days. Like my old supply pictured here, it will keep on the shelf literally for years.
Place rack in middle of oven and preheat to 325˚. Oil or grease a 2-quart rectangular glass baking dish and dust with matzah meal.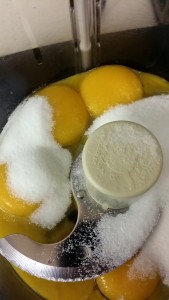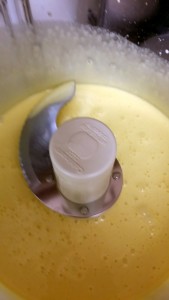 Process egg yolks and 1/2 C of the sugar in bowl of processor until pale yellow and slightly thickened.
Chop or break into chunks two of the bananas (the very ripe ones if using) and add to bowl along with vanilla wine, salt, matzah meal and potato starch; process until smooth.
Transfer mixture to a big bowl. Thinly slice the remaining bananas and add them to the batter. In a clean bowl of electric mixer beat the whites with the vinegar or lemon juice until they hold soft peaks. (The acid ingredient will help to keep the whites inflated during the rest of the baking process.) Very slowly beat in the remaining 1/4 C sugar until the whites hold stiff peaks but are not dry.
Fold about a fourth of the whites into the batter to lighten it, then gently fold in the remaining meringue until no streaks of white remain.
Pour the batter into the prepared dish, smooth the top and distribute the streusel evenly over the surface. Bake 30 to 35 minutes or until a tester inserted in center comes out clean. (My cake is shown with a small cookie sheet beneath it to protect the oven in case the cake ran over the sides of the dish; happily, this proved to be unnecessary!)
Cool the cake in the baking dish on a rack. Like mine, it may sink a little once out of the oven. When cool, cover tightly with foil. The cake will keep well for two days at room temperature or in the fridge; after that the topping loses some of its crunchy quality. While best served fresh, the cake may also be frozen. Once defrosted the streusel will also lose its crunch after a day or two. My husband likes this cake chilled, but I prefer it at room temperature.