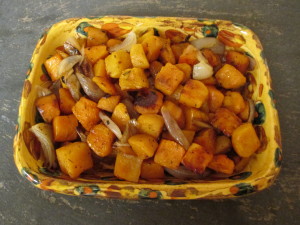 For a number of years our family has enjoyed this recipe by Julie Grimes Bottcher from FINE COOKING magazine. I have added a couple of my own steps to make both the preparation and the cleanup easier for a busy cook. It can easily be doubled to serve a crowd and the leftovers are good reheated.
Makes 4 to 6 servings
3 C butternut squash, peeled and diced into ¾" cubes, (from about a 2-lb. squash)
4-6 medium shallots, peeled and quartered (I like to use the larger amount)
2 TBSP extra-virgin olive oil
1 tsp chopped fresh rosemary
1 tsp kosher salt
½ tsp granulated sugar
½ tsp freshly ground black pepper
The peeled and cubed squash from Costco works very well in this recipe. If your shallots are huge, cut them into sixths. .
Pictured is chopped Chef's Choice rosemary from our yard; its flavor is especially delicious! (I wish I could find more of these plants in a local nursery.) The fine olive oil was a take-home gift from the Sacramento Il Fornaio restaurant when we dined there recently for a regional dinner.
Position a rack in the center of the oven and heat the oven to 450°F. Line a heavy-duty rimmed baking sheet with foil and oil or spray the foil with non-stick spray. In a large bowl toss the squash and shallots with the remaining ingredients.. Spread the vegetables evenly on the prepared pan. Roast for 20 minutes.
Toss and continue roasting until the vegetables are tender and lightly browned, 10 to 15 minutes more. Before serving, taste and season with more salt and pepper if needed.
Transfer to serving dish or portion onto dinner plates.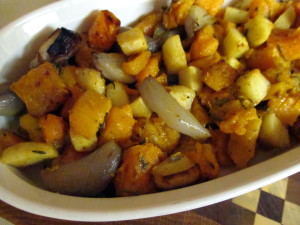 This recipe can be adapted to include parsnips cut to the same size as the squash. Just add the parsnips to the bowl with the other vegetables and add a little more oil and seasonings.