Now that apple season is beginning, it's a good time to stock up at the market and make some applesauce. I think it's a great idea to prepare applesauce by roasting because the flavor is concentrated. And it couldn't be easier! This is my version of a recipe I found in a newspaper article a few years ago. It's from The Santa Monica Farmers' Market Cookbook: Seasonal Foods, Simple Recipes, and Stories from the Market and Farm by Amelia Saltsman. Thanks to this simple method, our freezer will have a supply of applesauce  for serving alongside holiday brisket or latkes, or to use in desserts from a French apple tart to good old American applesauce bundt cake. I find it almost irresistible as a healthy snack eaten just plain!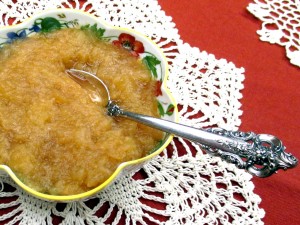 BAKED APPLESAUCE
Makes 4 to 5 cups
3 lbs (8-9) Fuji apples
Few sprigs thyme (optional – it doesn't seem to add a lot)
Lemon juice to taste (optional)
Preheat oven to 375°F. Line a large rimmed baking sheet with heavy foil (for easy cleanup). Cut apples in half vertically, cut out the stem and little black bits at the blossom end and remove the cores (a melon baller does a good job).
Place the halves, cut side down, in prepared pan. If using, scatter thyme among apples. (I left the thyme in the recipe because it is in the photographs. No harm done if a few of the leaves get mixed into the final product.) Cover pan tightly with aluminum foil. If apples are very large you may need more than one pan.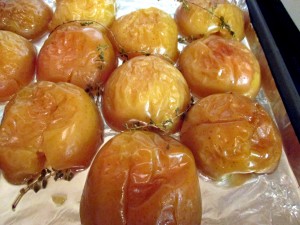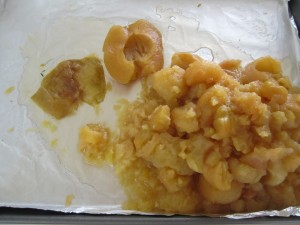 Bake apples until very tender, 30 minutes up to an hour. When cool enough to handle, slip the skins from the apple halves, scraping any pulp back into the pan. Discard skins and thyme. (Or, like Larry and me, you can snack on the warm chewy skins while completing the task!)
Mash apples with a fork, stirring in a bit of water or lemon juice if you choose to lighten the texture of the applesauce. I like the thick rough texture from mashing, so I don't add any liquid. If there are any brown bits clinging to the foil, be sure to incorporate them into the applesauce. This can be prepared several days ahead and stored in the refrigerator. It also freezes very well; I've kept it up to a year. The sweetness of the applesauce seems to intensify when it's defrosted, so the "Not very sweet" notation on the pictured container was no longer true when we tasted it this week!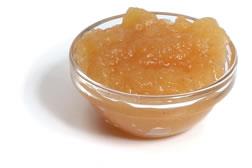 For a seasoned, sweeter approach to applesauce, see Elise Bauer's recipe recently posted on Simply Recipes.
You might also like the chunky applesauce with variations suggested in Chana Billet's recipe in the Jew and the Carrot blog of the Jewish Daily Forward.