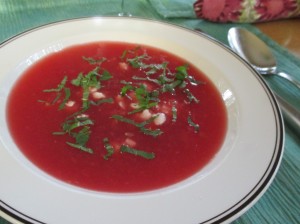 The recipe for this very refreshing cold soup was devised many years ago after Larry and I had watermelon soup as the first course of a summer dinner at Cafe Bernardo in  midtown Sacramento. The chef told me that she had sweetened the soup with a sugar syrup prepared ahead of time. Honey proved to be a simpler, quicker way to a similar soup.  We have this soup just about every week when watermelon is available and we never tire of its taste or gorgeous color!
It seems that most watermelons sold today are "seedless", but they all have at least a few soft white seeds. These aren't going to spoil the soup, so just eliminate what's easy to flick out with a knife and don't worry about the rest!  If you want the soup to have a little extra texture, add some of the watermelon separately after blending the other ingredients, pulsing to break up the chunks and stopping short of turning them completely to liquid.
For 4 1-C servings
2 lb  seedless watermelon chunks, divided if desired into 24 oz and 8 oz portions
2 – 3 Tbsp honey, or to taste
3/8 tsp kosher salt
feta cheese, cut in small cubes or crumbled into chunks
mint leaves, cut into chiffonade* just before serving
Purée the watermelon with the honey and salt in the jar of a blender. The soup will have a thin consistency. For a chunkier version, purée 24 oz of the watermelon with the honey and salt, then add the remaining 8 oz and pulse to achieve desired texture.
Chill the soup until very cold. (Using a metal bowl will speed this process.) Store in a jar in the refrigerator. Serve the soup in shallow bowls, garnished with feta and mint to taste.
*Chop mint into  chiffonade by stacking leaves, rolling them up lengthwise like a cigar and thinly slicing crosswise.
The soup without the cheese and mint will keep in the refrigerator for at least three days.