After a trip to France and England that lasted over seven weeks and a time-consuming commitment to present a program on vegetarian recipes at our local Jewish library, I am finally back in our kitchen and at the computer with the purpose of sharing good food ideas with you on the Internet!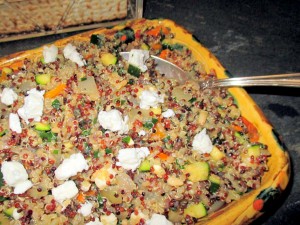 Quinoa was not among my favorite foods when it started to appear frequently in food publications. But I finally took the plunge and decided that quinoa and I should become better acquainted. Now it's become a must in the pantry and I keep a supply of cooked quinoa in our freezer for quick salads and side dishes and to add protein to main course dishes and soups.
Today's recipe is from SIMPLY RECIPES, the blog of my friend Elise Bauer. It is a very versatile and flexible dish so you can let your imagination and the preferences of your family and guests lead you in different directions. Unlike Elise, I sometimes like to use broth instead of water when cooking quinoa. What makes this a little different from many quinoa recipes is the pilaf method of sautéing the seeds with the other ingredients before adding the liquid. You can use red, white or tricolored quinoa; the red may take a little longer to cook. The recipe can easily be doubled to feed more people or for planned leftovers. This is an excellent addition to the repertoire of dishes permitted for Passover!
QUINOA PILAF
4 to 6 side-dish servings
1 C quinoa
2 to 3 TBSP extra virgin olive oil
½ medium yellow onion, finely chopped
1 each sweet red, yellow and orange mini-peppers, chopped
1 small clove garlic, minced
2 TBSP pine nuts, toasted
2 C water or vegetable broth (note saltiness of the broth if used)
Salt and freshly ground pepper
1 small zucchini or other summer squash, unpeeled, cut into small cubes
2 TBSP fresh mint, or more to taste, cut in chiffonade*
2 TBSP chopped fresh flat-leaf parsley, or more to taste
1 TBSP chopped fresh chives or 1 medium shallot, finely chopped
1/3  to 1/2 C crumbled feta cheese, optional
(You can add or substitute cilantro or basil for some of the herbs and add cubes of other vegetables.)
* Stack leaves and roll the stack lengthwise into a cigar shape, then slice thinly crosswise.
Place quinoa in a large strainer and rinse until the water runs clear. Heat 1 TBSP of olive oil in a 3-quart saucepan over medium high heat. Add the onion, chopped peppers, garlic and pine nuts and cook, stirring occasionally until the onions are translucent, but not browned. Add the drained quinoa and cook, stirring frequently for a few more minutes. It's all right for the quinoa to get toasted, but be careful not to burn it.
Add the water or broth, ½ teaspoon salt (or less if broth is salty) and a few grinds of pepper. Bring to a boil and reduce the heat to low so that the contents of the pot are simmering; partially cover the pot to allow the escape of some steam.
Simmer for 10 to 15 minutes or until the quinoa is tender and the liquid is absorbed. You should see a little white ring around each quinoa seed and all the seeds will have puffed to about three times their original volume. Gently mix in the zucchini cubes.
Remove from heat and transfer to a serving bowl. Fluff up with a fork.
Cool slightly and add 1 or 2 more tablespoons of olive oil. Stir in mint, parsley, chives or shallot and cheese, if using. Adjust seasoning. Serve warm, chilled or at room temperature.