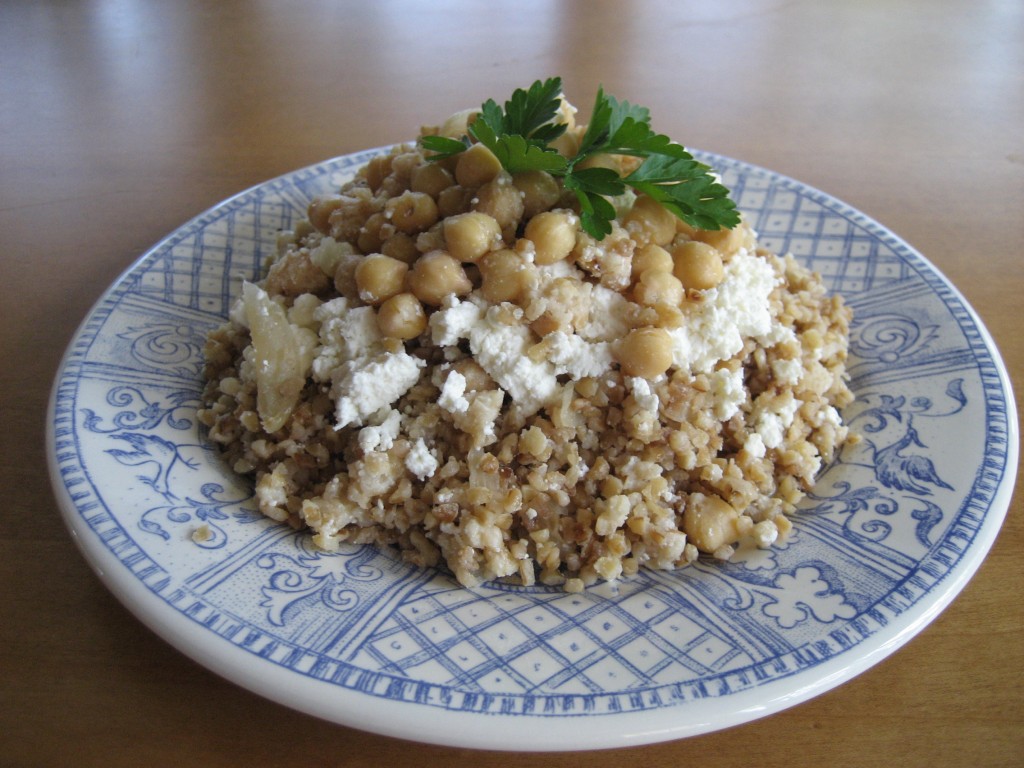 This is a very tasty and nourishing vegetarian dish from Syrian Jewish community. In some homes it was (and is in the diaspora) the traditional Thursday evening meal, a hearty but inexpensive prelude to a richer meat meal on Shabbat (the Sabbath). To keep with tradition, serve it with a cucumber and tomato salad on the side for a whole meal, or use it to accompany fish or other non-meat main courses. This recipe is based on the one offered by Jennifer Abadi in her cookbook/memoir, A FISTFUL OF LENTILS.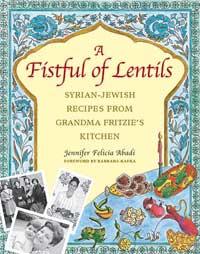 Amounts in the recipe below will make 4 generous side-dish servings. The recipe can be doubled using bigger pans.
2 TBSP extra virgin olive oil
1 C medium coarse grain bulgur wheat
1 medium garlic clove, minced
1/2 medium onion, sliced about 1/4″ thick, top to bottom
1 1/2 C hot water, plus more as needed
1/2 tsp salt
fresh-ground pepper to taste
1/2 C crumbled pot or farmer cheese
1 TBSP unsalted butter
1 small can or half a 15.5 oz can chickpeas, drained and rinsed
Ingredient Notes:
Bulgur is available in several degrees of coarseness.
Heat 1 TBSP of the olive oil in a 10″ skillet over medium-high heat. Add the bulgur, mix to coat with the oil and cook, stirring very often until it is  lightly browned and smells toasty. This will take about 5 minutes.
In the meanwhile heat the remaining tablespoon of oil in a medium-sized heavy pot over medium heat. Add the onion and cook, stirring often, until golden and softened. Add the garlic and continue to cook until the garlic is fragrant and the onions are brown. Be careful to keep stirring to avoid burning the garlic!  Add the water, salt and pepper to the onions in the pot. Bring to a boil and add the toasted bulgur. Boil gently, uncovered, for about 4 minutes. If the mixture is looking dry, add up to 1/4 C hot water and return to a boil. Reduce heat to medium-low, cover and cook about 15 minutes or more until bulgur is tender and the water has been absorbed. (Check often to see that the bottom of the pot isn't burning.) The grain will retain a pleasantly chewy texture.
Stir the butter into the mixture in the pot.Transfer the warm bulgur to a serving bowl, top with the crumbled cheese and then the chickpeas. Toss all just before serving.
Leftovers reheat very well in the microwave—even with the cheese and chickpeas incorporated.