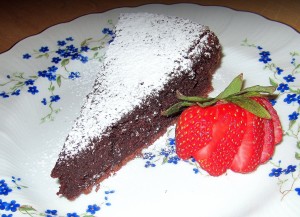 I prepared this delicious dessert for a Passover seder we attended recently.  It is adapted from baker Fran Gage's recipe on her website. The cake is a great choice for people with dairy allergies or sensitivity to gluten, those who are serving a kosher meat meal, or just any chocolate lover! If you prepare Fran's original version, this becomes an almost flourless cake.
Although Fran indicates 8 servings, I find that the cake is quite rich and will serve at least 10 people. When it isn't Passover, you can use all-purpose flour instead of the potato starch and regular dark chocolate as called for in the original recipe. Fran suggests 70% chocolate, but I have used a lower percentage dark chocolate with good results. For meals where there is no dairy restriction, whipped cream or crème anglaise would be a lovely accompaniment.
7 oz bittersweet or 70% chocolate (or specially marked Passover chocolate),
broken into squares or coarsely chopped
1/2 C extra-virgin olive oil
2/3 C + 1/3 C granulated cane sugar
5 extra-large eggs at room temperature, separated
2 TBSP potato starch or all-purpose flour
1/8 tsp fine sea salt
Confectioners' sugar for dusting (see note)
Place rack in middle of oven and preheat to 350°. Line a 9 x 3 inch round cake pan with a parchment round. (If you are using a springform, wrap bottom of the pan with foil to prevent leaks.)
Place the chocolate pieces in a large metal bowl and set the bowl in a skillet with a shallow amount of barely simmering water. When chocolate has melted, remove from the heat and whisk it until smooth. By hand whisk in the olive oil in a steady stream, then whisk in the 2/3 C of sugar, then the egg yolks, potato starch and salt. Set aside.
Beat the egg whites at medium speed in the bowl of a stand mixer using the whisk attachment. When the whites start to foam, add about a third of the remaining 1/3 C sugar. When the whites become opaque, add another third of the sugar. Finally, when the whites increase in volume and start to thicken, beat in the rest of the sugar and increase the speed to high. Beat until soft peaks form and the mixture still appears a little wet. Fold half of the whites into the chocolate mixture, then repeat with the remaining whites.
Turn the batter into the prepared pan and bake until a skewer inserted into the center of the cake comes out clean or with only a few crumbs on it, 30 to 40 minutes. The top of the cake will be crusty and crack; don't worry about this!
Cool the cake in its pan on a rack. It will sink as it cools; again, nothing to worry about—what was on top will be on the bottom when you serve it!
Run a table knife or small metal spatula around the circumference of the pan and invert the cake onto a serving plate or cardboard cake round. (If using a springform, remove the sides of the pan before inverting the cake.) Remove the parchment round. Just before serving dust the top of the cake with homemade* or store-bought confectioners' sugar.
The cake can be frozen, carefully wrapped, for at least a week. Thaw at room temperature for at least three hours.
*NOTE: Regular confectioners' sugar is not kosher for Passover because it contains cornstarch, but you can make a good substitute by using a food processor or blender to process 1 cup of sugar with 1 tablespoon of potato starch until powdery. Passover confectioners' sugar is sometimes available, but it is quite costly.