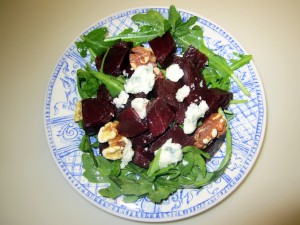 This recipe was inspired by one that came with a bunch of supermarket golden beets and a recipe devised by author Dorie Greenspan and shared on her blog, In the Kitchen and On the Road with Dorie.  If you are in a hurry, use pre-cooked beets now available in supermarket produce departments. Warming them in the microwave helps the beets to absorb the dressing. Serves 6-8.
1 lb beets, weighed without greens (red or golden, or a mix)
2 TBSP balsamic vinegar
¼ tsp kosher salt or to taste
Fresh-ground pepper
2 TBSP extra virgin olive oil
2 TBSP walnut oil
3 oz blue cheese or goat cheese, shaved into shards
½ C toasted walnut halves*
1 ½ TBSP honey, for drizzling
5 oz bag arugula (or use mesclun salad greens)
Scrub the beets and trim stems to about 1inch. Place them in an ovenproof casserole, add ¼"of water and cover tightly. Roast at 375° until the sharp point of a paring knife penetrates each beet easily. (Time will depend on the size of the beets, probably 35-50 minutes.) Allow beets to cool, then slip off the skins and trim the tops and bottoms to remove the roots and remaining stems. Chill in refrigerator or place in heavy zip-lock bag and store in freezer for later use. (Thaw at room temperature before using; this will take several hours.)
While beets roast, make the dressing. Place vinegar and salt in a small bowl or jar and whisk to dissolve the salt. Slowly beat in the oil. Season with fresh-ground pepper to taste. Set dressing aside. This can be made a day ahead; whisk to re-combine as needed.
In a medium-size bowl, toss the greens with just enough dressing to coat them lightly and transfer to a serving platter. Cut the beets into cubes and toss with more of the dressing, coating them well. Arrange beets on top of the greens; sprinkle with walnuts and chards of cheese. Drizzle with a little more vinaigrette if you think it is needed, then drizzle lightly with honey. Toss at the table, or if serving as part of a buffet, leave as is and provide utensils that will make it easy for guests to help themselves to the layers of salad.
*Toast walnuts on a baking sheet in a 350° oven for about 10 minutes or until fragrant. Watch carefully to avoid burning them.