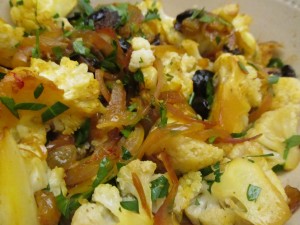 It is always a treat to discover new ways to cook favorite foods and in his appetizing cookbooks Israeli-born London restaurateur Yotam Ottolenghi provides many such opportunities. From PLENTY here is a new way to prepare cauliflower requiring a minimum of effort to produce a marvelous mix of flavors and textures and a stunning array of colors.When I prepare this I use black oil-cured olives instead of the green ones called for in the original recipe. While this will generously serve 4 as a side dish, I think I could eat the whole thing myself—it's delicious!
1 1/2 tsp saffron threads
1/3 C boiling water
1 medium head cauliflower, divided into medium florets, OR 2  12-oz bags cauliflower
florets (such as Trader Joe's)
1 large red onion, peeled, halved and sliced top to bottom
2/3 C golden raisins (if dry, briefly soaked in hot water and drained)
1/2 C oil-cured black olives, pitted and cut in half lengthwise
1/4 C olive oil
1 large or 2 small bay leaves
salt and freshly ground black pepper to taste
1/4 C roughly chopped flat-leaf parsley
Set rack in middle position and preheat oven to 400°.  Oil or spray a medium ovenproof platter with non-stick spray. In the bottom of a large bowl soak the saffron threads in the boiling water for a minute or two. Add the remaining ingredients except the parsley and combine everything with your hands.
Spread the vegetable mixture in the prepared casserole and cover with foil. Place in the preheated oven for 40 to 45 minutes, or until the cauliflower is tender but not soft. (A knife tip will pierce it easily but it won't be mushy.) Halfway through the cooking time remove the dish from the oven, take off the foil and stir the vegetables well. Recover and return to the oven.
When the cauliflower is done, remove the foil and let the dish cool down a little. Remove the bay leaves. Stir in the parsley, taste for seasoning and adjust if necessary. Serve the dish warm or at room temperature.