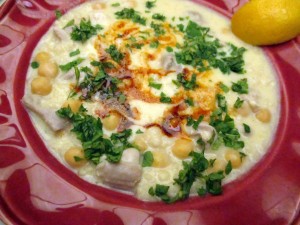 This delectable Mediterranean soup, adapted from a recipe of Joyce Goldstein, is both exotic and easy to make.  You can use leftovers (rotisserie chicken or turkey and  2 cups of leftover white or brown rice) to prepare it very quickly. Lately I've been using chickpeas that I cook myself from a recipe in Fine Cooking. My friend Elise Bauer featured this soup on her Simply Recipes blog after tasting it at our home.
1 C water
½ C basmati rice
4 C stock or low-sodium broth (chicken, vegetable or turkey)
1 lb skinless, boneless chicken thighs, cut into
1-inchpieces (or 2 C or more cubed leftover chicken or turkey)
1 C full-fat plain yogurt (I like to use Greek yogurt)
1 large egg yolk
2 TBSP all-purpose flour
One 15-oz can chickpeas, drained and rinsed or
1½ C cooked chickpeas
Salt and freshly ground pepper
2 TBSP unsalted butter
2 tsp minced garlic (2 medium cloves)
2 tsp sweet paprika (for an exotic twist use the smoked kind)
1/8 tsp cayenne pepper (or to taste)
3 TBSP finely chopped fresh mint (chop at the last minute)
Lemon wedges, for serving
Bring the water to a boil in a medium saucepan. Add the rice and cook, covered, over low heat about 12 to 15 minutes or until barely tender.
Meanwhile, in a medium saucepan, bring the stock to a simmer over moderately high heat. Add the chicken thighs and simmer until cooked through, about 10 minutes.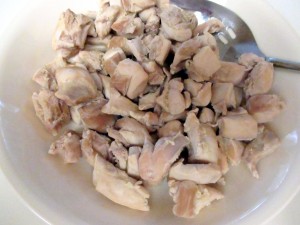 Remove the chicken to a plate with a slotted spoon and skim any fat from the surface of the broth. The chicken can be cooked ahead of time, cooled and refrigerated until needed. While it's cooling, cover lightly so that the surface of the meat doesn't dry out. (If using leftover cooked chicken or turkey, just heat the broth a little to speed up the rest of the recipe.)
In a large saucepan, whisk the yogurt with the egg yolk and flour. Whisk in the warm stock and bring to a simmer over medium-low heat, whisking occasionally.
Stir in the chickpeas, rice and reserved chicken. Season with salt and pepper and keep warm over low heat.
Melt the butter in a small skillet. Add the garlic, paprika and cayenne and stir over moderate heat until fragrant, about 2 minutes.
Ladle the soup into shallow bowls and swirl in the now-red butter. Sprinkle each serving with mint and accompany with lemon wedges.