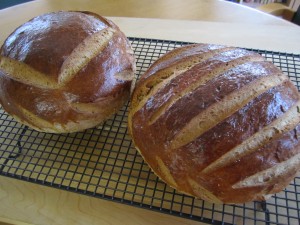 Nothing beats the aroma of homemade bread emanating from the kitchen—unless it's the taste of the bread once it is out of the oven and ready to be sampled! The return of gray skies and rain to our Sacramento area invites even the busiest person to spend a little time in the kitchen creating the aforementioned delights. This recipe, adapted from much older ones from a newspaper article and the Fleischmann's Yeast website requires astonishingly little time from start to completion with only a few minutes of hands-on involvement.
Adaptable for several shapes and sizes, the dough goes together very easily in a mixer equipped with a dough hook. The larger-than-usual dose of yeast and the beer contribute to the speedy single-rise process without producing a too-yeasty flavor. Lately I have switched to dark ale after using it for a particularly flavorful batch.
If you don't care for caraway seeds, just leave them out or substitute something else like fennel or anise—or a combination. For a vegan version, just bake the loaves "naked" by eliminating the egg wash coating.
Grease 2 8" round metal pie or cake pans with vegetable oil and sprinkle corn meal on the bottoms.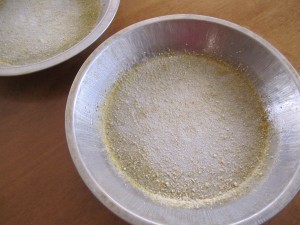 3 C rye or pumpernickel flour
5 C bread flour
4 tsp salt
3 envelopes (3/4 oz total) or 3 yeast measures quick-acting or instant yeast
2 TBSP caraway seeds
12 oz dark ale or beer
1 C water
2 TBSP canola oil
2 TBSP honey
2 TBSP dark molasses
1 beaten egg (for glazing)
In bowl of stand mixer whisk together the rye and bread flours, salt, yeast, and caraway seeds until evenly mixed. Insert the dough hook.
Combine the ale or beer, water, oil, honey and molasses in a 4-cup glass measure and heat in microwave oven to 130°.
With machine on low speed slowly add the liquid to the flour mixture, pouring only as fast as it can be absorbed. When all liquid is incorporated, continue at medium speed until dough is homogeneous and forms a ball around the dough hook. Do not add flour unless dough seems excessively sticky, in which case add only a tablespoon or two at a time.  (Remember that the dough will lose some of its stickiness when you hand knead it.)
Remove dough from bowl and knead by hand for about a minute, flouring surface only if necessary to keep it from sticking.  Divide dough into 2 equal pieces; shape each into a smooth ball and place in the prepared pans. Flatten the balls to fit the pans. Cover lightly with plastic wrap or place each in a plastic bag, sealing with room for expansion. Allow dough to double, watching carefully as this may take only a little while.  Begin checking after 15 minutes. Dough has risen sufficiently when a finger poked into the surface leaves an impression that does not immediately spring back.
Preheat oven to 375°. Using a razor or very sharp knife, slash doubled loaves in a decorative pattern (a square or parallel lines, for example). Make diagonal slashes  2 inches apart around the bottom of each loaf; this will allow for expansion of the crust with less chance of tearing as it rises in the oven. Brush surface of loaves with beaten egg.
Place loaves in preheated oven for 25 to 30 minutes, or until an instant-read thermometer reads 200° and a tap on the bottom of the bread produces a resonant "hollow" sound.  Remove from pan and cool on a rack. Allow bread to cool before slicing it. Store in freezer if you aren't going to eat it within 24 hours; it tends to get dry if you don't.
If you shape smaller, more tubular loaves, slices can be used as bases for cocktail snacks like little "pizzas" or smoked salmon with crème fraîche.