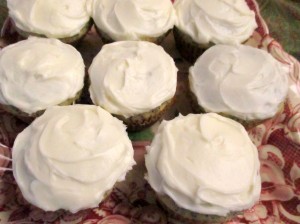 This year the Jewish festival of Purim begins in the evening of Saturday, March 15 and ends in the evening of Sunday, March 16. Among the special foods for this joyous holiday are recipes featuring poppy seeds, said to be an important part of the vegetarian diet of Queen Esther, the heroine of the Purim story.  More information about Esther and the holiday is available here.
Several years ago this recipe, attributed to Stella Zedman, was on a site called Yumsugar. It does not seem to be there anymore, so I cannot offer you a link to my source. I do admit to giving it a few of my own additions. The cupcakes will still be delicious if you are short on time or inspiration and want to omit the lemon curd filling.
Poppyseed  Yogurt Cupcakes with Cream Cheese Frosting
Makes 12 cupcakes
½ C low-fat plain yogurt
¼ C poppy seeds
½ C (1 stick) butter, softened
½ C granulated sugar
½ tsp vanilla extract
2 eggs (large or extra-large)
1 ¼ C all-purpose flour
1 tsp baking powder
½ tsp baking soda
½ tsp salt
1 C lemon curd (approximately) – Use store-bought or your favorite recipe, completely cooled. For a good recipe and lots of helpful hints take a look at Fine Cooking's article by Elinor Klivans here.
Cream cheese frosting (recipe below)
Preheat the oven to 350˚ (325˚ convection) Line a 12-cup muffin pan with paper liners. (I highly recommend non-stick papers, which make for neater enjoyment!)
In a small bowl, stir together the yogurt and the poppy seeds. Set this mixture aside while you prepare the remaining ingredients.
In the bowl of an electric mixer, cream the butter with the sugar. Add the vanilla and eggs and beat until thick and creamy.  This may take several minutes and the mixture may look a little curdled. (Don't worry; it will come together in the end!)
In another bowl, whisk together the flour, baking powder, baking soda and salt.  Add the flour mixture to the egg mixture in 3 additions, alternately with 2 of the poppy seed mixture. Beat on low speed just until smooth.
Spoon the batter into the cupcake liners, filling them no more than 2/3 full — there should be just enough for 12 cupcakes. (You can use a scant #24 scoop to fill the  papers.)
Bake for 20 to 25 minutes for conventional oven, or until the cupcakes are just beginning to color and a toothpick poked into the middle comes out clean. Check well before the indicated time. Convection baking takes not much more than 15 minutes.
Remove pan from oven and let cupcakes cool on a rack, removing them from pan after 10 minutes. Use a pastry bag fitted with a narrow plain tip to pipe some lemon curd into the center of each cooled cupcake. (Just plunge the tip into the top and squeeze.)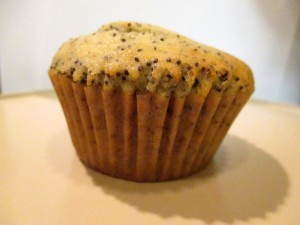 Here is what happens if your convection over has an overly zealous fan! Not a tragedy, since it can be covered up with thicker frosting on one side, but I switched to my second oven when I baked the batch that I was going to fill and photograph.
CREAM CHEESE FROSTING
I recommend the recipe from the Joy of Cooking (the 75th anniversary edition). Because it isn't ultra-sweet, it complements the cupcakes perfectly. The food processor method works well and seems to help keep the frosting from getting too thin. Here's half the recipe, which is a generous amount for a dozen cupcakes:
1 ½ C confectioner's sugar
pinch salt (my addition)
4 oz cream cheese, cut into cubes, refrigerator temperature
1 ½ oz (3 TBSP) butter, cut into small pieces, room temperature
1 TBSP fresh lemon juice (my addition, instead of the vanilla called for)
Put measured confectioner's sugar and the salt in bowl of processor and pulse to remove any lumps.
Add remaining ingredients and pulse until all is combined and smooth. Scrape down sides of bowl after a few pulses to make sure everything gets incorporated. Pulse just until desired consistency; too much processing will produce a frosting that's too thin. You can pulse in more sugar if you need to thicken it up. Frosting can be stored in fridge or freezer and brought to spreadable temperature.
Frost with the cream cheese frosting and store in a well-sealed box in the refrigerator for up to 2 days. Take out about 30 minutes before serving. The filled and frosted cupcakes also freeze very well.