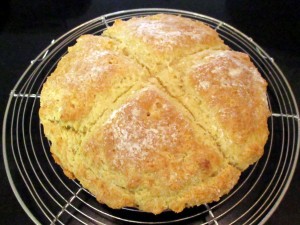 Way back in the 1980's a young lady who worked at Sweet Dreams Bakery in Carmichael, California shared her Irish grandmother's recipe for soda bread. We made it at the bakery and felt proud that it was the "authentic" way to prepare this classic for St. Patrick's Day. The bakery disappeared long ago, but the recipe remains a good choice for the holiday.
The Internet currently offers a multitude of versions of this quick bread and of course there is no measuring stick for authenticity. There are substantial differences in the ingredients, and in fact Mrs. O'Connell's is one of the few that includes eggs. Some have caraway seeds or raisins; some contain whole wheat flour. Some are kneaded briefly before going into their baking pans.
Mrs. O'Connell used Crisco in her version, but as I prepared to share this on my blog, I decided to compare this with a second version made with an equal amount of butter. You can see in some of the photos that the latter came out yellower in color. What you can't see is that the Crisco loaf was tenderer and—more surprising—tastier (at least to my husband and me). Fortunately, the latest formulation of Crisco has almost entirely eliminated trans-fats, so we don't have to worry about health issues!
Mrs. O'Connell's Irish Soda Bread
Makes 2  8" loaves or 1 10" loaf
4 C unbleached all-purpose flour
2 TBSP sugar
1 ½ tsp baking powder
1 ½ tsp baking soda
1 tsp salt
½ C Crisco
1 C buttermilk, plus additional as needed
2 eggs (large or extra-large)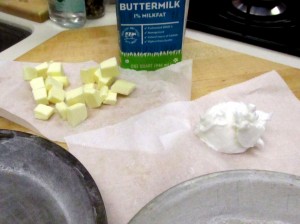 Preheat oven to 375 ° with rack in the middle of the oven.  Grease and flour two 8″ pie pans or two 8" round cake pans or a 10" round cake pan.
Place the flour, sugar, baking powder, baking soda, and salt in the bowl of a food processor. Pulse to combine well. Distribute the Crisco in chunks on surface of the dry ingredients and pulse to cut in evenly until the mixture looks like coarse meal. Empty the processor contents into a big mixing bowl.
In a quart-size glass measuring cup beat 1 C buttermilk with the eggs. (The photo shows my two half-recipe measurements for the butter/Crisco experiment.) Add and beat in enough buttermilk to make a total of 2¼ C liquid. Using a fork, gently mix the liquid mixture into the dry mixture, just until the batter is evenly moist—don't over-mix!
Transfer the batter to the prepared pan(s) and with floured hands pat it down gently and evenly. Rub Crisco on a knife and dip it into flour; cut a cross in the center of the bread, cutting all the way through. (According to tradition, this is "to let the devil out.")
Bake the bread in the preheated oven for 40 to 45 minutes for the smaller loaves, about 55 minutes for the large one. A wooden skewer or toothpick should come out dry. It may seem done before 40 minutes, but after cooling it may remain a bit too moist when served. (I haven't baked a bigger one, so check after about 50 minutes.) Remove bread from pans and cool slightly on a wire rack.
If you aren't going to serve it right away, reheat the bread, loosely wrapped in foil, for 10 to 15 minutes at 350°. The bread freezes well. Thaw it before reheating.
Serve hot with butter (try European style salted butter). Add your favorite jam or some home-made apple butter and you are set to celebrate!