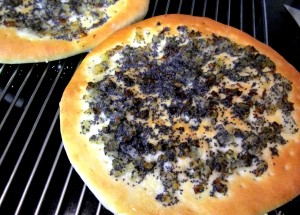 This flat-bread, also called an onion board, is a Jewish delicatessen treat that I remember from my days growing up in Baltimore. It's good as is or slathered with sweet butter or cream cheese. This recipe is written for a large or mid-sized food processor with dough blade. Because poppy seeds can go rancid, it's a good idea to store them in the freezer. To prepare 3 pletzels in a small processor with steel blade, use half the ingredients.
6 pletzels
DOUGH
5 cups bread flour
1 TBSP sugar
1 ½ tsp salt
1 packet Or 2 ¼ tsp quick-rising yeast
1 tsp salt
1 ¾ C very warm water (125°)
TOPPING
2 C finely chopped onion
½ C canola oil
¼ C poppy seeds (make sure they're fresh and tasty)
Place flour, sugar, salt and yeast in processor bowl  fitted with dough blade; process to blend.  With machine running, add the water, pouring only as fast as it can be absorbed.
After all the water has been added, run machine 40 seconds, or until dough is smooth and clears the sides of the bowl. If dough remains quite sticky, add flour a tablespoon at a time until it is smooth enough to be removed from bowl and kneaded on board without additional flour. (Remember that processor doughs tend to be a little stickier than others when they first are removed from the bowl–a little tackiness is OK.) Knead the dough by hand for about a minute.
Place it in a plastic bag, squeeze out excess air and seal the bag, allowing room for expansion.  Let rise at room temperature until double, about 30 minutes. (Dough will hold an indentation when poked with a finger.)
While dough is rising, make topping.  Sauté onion in oil until soft but not brown. Add poppy seeds and salt. Set aside.
Punch down the doubled dough and divide into 6 pieces, each about 7 oz.  (Weighing them will make for uniform pletzels.) Sprinkle  2 ungreased baking sheets with cornmeal, or cover with parchment or a silicone mat and then sprinkle with cornmeal.
Roll each out on floured board to 8" circle. If dough sticks a little, dislodge it with a pastry scraper or a knife. Transfer dough circles to prepared baking sheets.  Prick the surface of the rounds with tines of fork and spread with onion mixture, leaving a ½-inch border unpricked and without onions.  Cover with plastic wrap and allow pletzels to rise until puffy, about 15 minutes. Place rack in middle of oven and preheat oven to 425°. Once again prick area inside border with fork.
Bake each sheet separately, in the order in which they were prepared, for 15 minutes or until brown and crusty around edges. Serve warm or at room temperature. OR bake just 7 minutes and cool on rack. Wrap securely; refrigerate or freeze. Thaw, if frozen, and finish baking in preheated 425° oven for 7 to 10 minutes.
These can be cut into neat wedges with a knife or scissors, but it is also fun to break off random-sized pieces. In any case, cream cheese or sweet butter are excellent toppings.
NOTE:  For thinner boards, preheat oven before shaping rounds and bake the boards right away without a second rising.