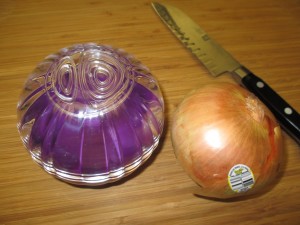 At a luncheon today a student told me that one of the most valuable skills she had learned from me was how to chop an onion. This made me very happy and inspired me to write a short post on this subject.
Onions (and other member of their family like shallots and garlic) can be quickly, easily and safely prepared for their various roles in recipes–if you know the right way to approach the job. Click here to watch a really good video from Fine Cooking Magazine to learn all  about it.
When only part of an onion is chopped, there is  the question of how to store the unused remainder. The container must not only hold the onion, but also prevent its strong odor from escaping into the fridge. Formerly I rejected plastic bags and film because they did not contain the odor, and my preferred way of achieving this was to use a large glass peanut butter jar. This was wide enough to accommodate half of a large onion, plus more of the other half if necessary. Last week I found a wonderful bargain in a bin at Bed, Bath and Beyond. Unlike other plastic containers that I've tried, this one really does the job and it takes up much less room than the jar!
The onion keeper in the top photo is made by Hutzler, which also makes a similar product with a point that resembles the top of an onion. I haven't tried this one, but if I couldn't find one like the purple and clear version, I'd certainly give it a try!